About
A Systems Approach To Improve Quality and Shelf Life of Organic Dairy Products for Domestic and Export Markets
Welcome to the website of the NIFA OREI funded project A Systems Approach to Improve Quality and Shelf Life of Organic Dairy Products for Domestic and Export Markets.This project has assembled a multi-regional team to address the challenge of spore control in the organic dairy industry. The website describes the project objectives, the collaborators, and lists some relevant links and resources. As the project progresses, articles, videos, webinars and other content will be archived here.
In 2016, dairy contributed $1.4 billion to a total of $7.6 billion of sales for all certified organic commodities. Expansion of organic dairy product sales in domestic and export markets represent a considerable opportunity, but requires continuous improvements in quality and shelf-life. Sporeforming bacteria, which cause reduced shelf-life and/or quality issues across different products (e.g. fluid milk, dairy powders, cheese), represent a particular challenge for the organic dairy industry as they are some of the most resilient bacteria, which survive many heat treatments and may be resistant to some OMRI approved sanitizers. This project will enable the US organic dairy industry to use evidence based tools to optimize product quality and reach new markets.
Objectives
Goal 1: Define frequency and scope of contamination with sporeformers in organic dairy production from farm to finished product with a focus on fluid milk, powders, and hard cheeses
Goal 2: Develop Monte Carlo simulations to allow for prediction of spoilage issues and frequencies in organic fluid milk, powders, and hard cheeses and to assess effectiveness of different mitigation strategies
Goal 3: Develop and validate new and existing interventions for sporeformers that are compatible with organic production and processing practices
Goal 4: Perform implementation trials, for sporeformer reduction and finished product quality improvement, on organic farms and production facilities
Goal 5: Develop comprehensive mixed model training and technology transfer demonstration activities to facilitate rapid system-wide adoption of strategies to reduce sporeformer-based spoilage issues in organic dairy products
Funding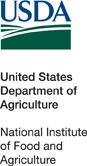 This project was funded by the Organic Research and Extension Initiative grant, part of the USDA National Institute of Food and Agriculture. Award Number 2019-51300-30242.