Webinars
Webinar recordings and upcoming webinars on Pasture Mixes to Improve the Sustainability of Organic Pasture-Based Dairy
May 6, 2022 Webinar: Dairy Breed, Grass-Birdsfoot Trefoil Mixture, and Pasture Nutrition Effects on Intake, Feed Efficiency and Grazing Adaptation, by Michael Greenland of Utah State University. Read a description of the findings at https://eorganic.org/node/35394
January 9, 2020 Webinar: Pasture Mixtures to Improve Sustainability of Organic Pasture-Based Dairy: Nutritive Quality and Dry Matter Intake, by Blair Waldron of the USDA ARS.
February 20, 2020: Effects of Different Pasture Mixes on Heifer Growth and Development. Jacob Hadfield, USU Extension
March 19, 2020: Forage Legumes in Pasture and Successful Inter-seeding, by Mike Peel, USDA ARS Forage and Range Lab, Logan UT.
April 22, 2020: Economics of Organic Replacement Dairy Heifers, by Ryan Feuz and Ryan Larsen, Utah State University
Funding
Funding for these projects was provided by

Western SARE grants SW17-046 and 2SW21-927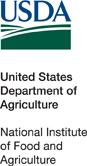 USDA NIFA OREI grant 2017-51300-26866