Publications
Articles
Puka-Beals, J. and Gramig, G. 2020. Hydromulching in Carrot: An Organic Weed Control Tool for Direct Seeded Crops. eOrganic article. Available at https://eorganic.org/node/34194.
Presentations
Dort University Eco-Ag Field Trip. July 19, 2022. Mount Vernon, WA
Washington State Commission of Pesticide Registration Tour. July 26, 2022
NDSU Absaraka Horticultural Research Field Day. September 15, 2022
33rd Association for the Advancement of Industrial Crops Meeting, Oct 9-12, 2022, Bozeman, MT.
DeVetter, Lisa. Hydromulching for Sustainable Agriculture. Washington Small Fruit Conference, Nov 29, 2022, Lynden, WA.
Gramig G, Ahmad A, Bajwa D, DeVetter L, Durado A, Formiga A, Galinato S, Weyers S. 2023. Liquid-applied Cellulosic Mulches for Weed Suppression in Day-Neutral Strawberry. Western Society of Weed Science 23rd Annual Meeting, February 27-March 2, Boise ID (116).
Weiss, Ben. 2023. Hydromulching for sustainable agriculture. Skagit County Berry Workshop. March 10, 2023.
Weiss, Ben. 2023. Hyromulching for sustainable agriculture. Snohomish and King County Fruit Society Meeting. March 25, 2023.
NDSU 'Spring Fever' Webinar series, April 3, 2023
American Society for Horticultural Science, Jul 31-Aug 4, 2023, Orlando, Florida
NDSU Absaraka Horticultural Research Field Day 2023, date TBD
Funding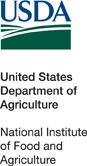 This project was funded in 2014 by the Organic Research and Extension Initiative grant, part of the USDA National Institute of Food and Agriculture. Grant number 2021-51300-34909.
MulcH2O: Biodegradable Composite Hydromulches for Sustainable Organic Horticulture