People
Project Director

Greta Gramig, Associate Professor, North Dakota State University Department of Plant Sciences. Contact: greta.gramig@ndsu.edu. Dr. Gramig will Gramig will lead the project and work with farmers to conduct application technology trials and field studies to test hydromulch in strawberry and transplanted vegetables at Minnesota and North Dakota sites. She will provide direction for her Research Specialist, Graduate Research Assistant, and summer student workers to conduct these field studies. She will also present results at grower and scientific conferences, and write reports and peer-reviewed articles.
Co-Principal Investigators

Dilpreet Bajwa, Professor, Mechanical and Industrial Engineering, Montana State University. Dr. Bajwa will lead development of alternative hydromulch formulations. He will source and characterize constituent feedstocks, and he will evaluate their physical, mechanical and chemical properties of the resulting hydromulches. He will advise one graduate student, and he will collaborate with the project team to prepare presentations and peer-reviewed scientific articles.

Lisa Wasko DeVetter, Associate Professor, Department of Horticulture, Washington State University Northwestern Washington Research and Extension Center. Dr. DeVetter will lead field trials and extension activities in Washington State and the Pacific Northwest, an important region for horticultural crop production. Field trials in Washington will focus on strawberry and blueberry in western and eastern portions of the state, respectively. She will partner with agronomist Justin Ellgen on hydromulch application and evaluation, including evaluation on a commercial blueberry farm with organic production. She will also mentor a PhD graduate student and collaborate with the project team on data collection, analysis, and reporting in scientific journals, conferences and grower venues.

Suzette Galinato, Assistant Director, IMPACT Center, School of Economic Sciences, Washington State University. Suzette Galinato will be responsible for the economic feasibility analysis of using hydromulch in organic crop production. She will compare the net economic benefits of adopting this technology relative to conventional plastic mulch and identify potential scenarios where hydromulch would yield greater farm profits as compared to business as usual. She will also collaborate with the project team to prepare extension and outreach materials, as well as scientific publications and presentations.
Sharon Weyers, Research Soil Scientist, USDA Agricultural Research Service, Morris, Minnesota. Dr. Weyers will be responsible for evaluating the impact of hydromulch on soil chemical, physical, and biological properties in field collected soils. Specifically, she will lead in situ nitrogen mineralization assays at NDSU and direct similar procedures at WSU. In-field hydrological properties, including infiltration and or run-off will be assessed at NDSU research sites. She will provide leadership on analysis, interpretation, and dissemination of soil health aspects including nutrient cycling and biological data and information.

Alice Formiga, Assistant Professor of Practice, Oregon State University, eOrganic Director. Alice Formiga will provide peer and NOP compliance review for articles to be published on the eOrganic public website. She will conduct and evaluate webinars by project collaborators and create a public project website which will describe the project objectives, and archive all publications, presentations, and other outreach materials. She will also publicize project events, activities and resources to a national audience via the eOrganic newsletter and social media channels.
Key Personnel
Ross and Amber Lockhart, Heart and Soil Farm
Bjorn Solberg, Hugh's Gardens.
Justin Ellgen, Orchard Vineyard Supply
Jake Warvin, Wykoff Farms
Graduate Students
Waqas Ahmad, North Dakota State University
Andrew Durado, Montana State University
Dakota McFadden, Washington State University
Ben Weiss, Washington State University
Funding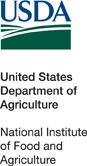 This project was funded in 2014 by the Organic Research and Extension Initiative grant, part of the USDA National Institute of Food and Agriculture. Grant number 2021-51300-34909.
MulcH2O: Biodegradable Composite Hydromulches for Sustainable Organic Horticulture