New Varieties
The following new varieties have been bred by the ESOCuc Project, and they are available at the links below:
DMR 401 Cucumber
DMR 401 offers resistance to the newest strain of cucurbit downy mildew with foliage that stands strong against the pathogen to keep producing sizable, uniform fruits. The hands-down winner for mildew resistance in both extension and farmer trials. Best used in regions with heavy DM pressure, and during seasonal slots when DM is expected. Monoecious, 7" fruit with high resistance to downy mildew. Bred by Dr. Michael Mazourek of Cornell University with the support of a USDA-NIFA-OREI grant. Available from High Mowing Organic Seeds: https://www.highmowingseeds.com/organic-non-gmo-dmr-401-cucumber-a.html
DMR 264 Cucumber
This is the first slicing cucumber with resistance to the new strain of downy mildew. Its especially adapted to warmer climates or where downy mildew pressure is severe.
Available from Common Wealth Seed Growers: http://commonwealthseeds.com/shop/
Trifecta Muskmelon
Trifecta is a melon with improved downy mildew resistance, sweetness and good yields, which is also less prone to damage by striped cucumber beetles.
Available from the Southern Exposure Seed Exchange:
https://www.southernexposure.com/trifecta-muskmelon-2-g-p-1918.html
Seminole Melon
The ESOCuc project also introduced Common Wealth Seeds to the Seminole melon, which also has good downy mildew resistance. This variety was developed from a volunteer plant at the University of Florida Agricultural Experiment Station in Sanford, FL, and released in 1960. It is not otherwise commercially available.
http://commonwealthseeds.com/varieties-offered/
Our Sponsors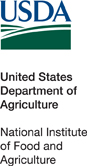 Grant number: 2012-51300-20006