Project Team for the Organic Cucurbit Research Project
Project Director
Michael Mazourek, Cornell University
Associate Professor, Department of Plant Breeding and Genetics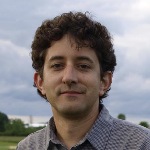 Michael Mazourek is an Associate Professor of Plant Breeding and Genetics at Cornell University as well as the Project Director for the Eso-Cuc OREI grant. Michael's research focuses on improving quality and nutrition of vegetables for production in the Northeastern US. Much of his work is done in organic systems where he uses genomics, genetics, molecular biology, field trials and/or analytical chemistry to study pepper, squash, cucumber, melon, watermelon, and snap peas. Michael's research for the Eso-Cuc OREI project will be focused on developing cucumber, melon and squash open-pollinated cultivars that are not only regionally adapted to pests, but flavorful, prolific producers as well.
Co-Project Directors
Micaela Colley, Organic Seed Alliance
Executive Director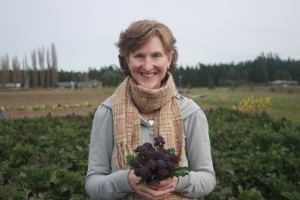 Micaela Colley is the Executive Director of Organic Seed Alliance. She also manages participatory plant breeding, research and education projects with farmers, university researchers and other seed professionals. She has authored several educational publications covering topics on organic seed production, on-farm crop improvement and variety trialing and teaches workshops on seed related topics. Micaela holds twelve years in the organic seed field including past experience in the organic seed industry. Micaela will be focusing her work in the Eso-Cuc project on collaboration through outreach and extension.
Jeanine Davis, North Carolina State University
Associate Professor, Extension Specialist Mountain Horticultural Crops Research & Extension Center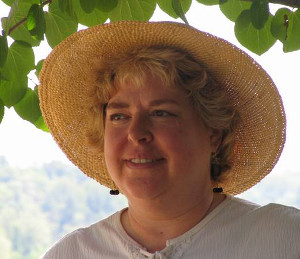 Jeanine Davis is an associate professor and extension specialist in the Department of Horticultural Science at North Carolina State University. She is located in the western part of the state where her research and extension programs are dedicated to the development of sustainable and organic production systems for herbs, vegetables, and a wide variety of specialty crops. For the Eso-Cuc Grant, Jeanine will be leading a set of variety evaluations from the Mountain Research Station in Waynesville, North Carolina.
Michael P. Hoffmann, Cornell University
Director CUAES and Associate Dean CALS, Professor, Department of Entomology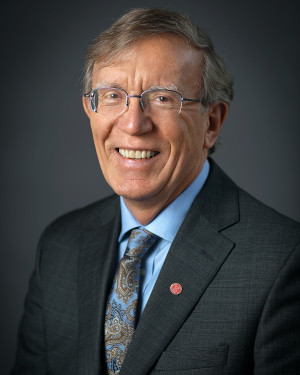 As a professor of entomology, Mike Hoffmann directs his research towards advancing the integrated pest management (IPM) strategy. Focusing on improving the understanding of pest biology and ecology in vegetable crop systems, he is developing practical, cost-effective, and environmentally sensitive pest management tactics delivered to end-users through extension, to adapt to grower needs. As associate dean, he contributes to strategic planning and represents the College to various state and regional organizations. As director, he oversees the allocation of over $5.9 million in federal formula funds for applied research and ensures that these resources are used to address the needs of stakeholders in New York State. He also oversees seven of the College's farms and extensive plant growth facilities including 4 acres of research greenhouses. His major area of interest is sustainability with particular emphasis on climate change, energy conservation, and the fostering of leadership among staff and faculty. For the Eso-Cuc OREI project Mike is researching and developing management strategies to minimize the impact of striped cucumber beetle populations. These strategies are based on an improved understanding of beetle – plant interactions and include identification of less preferred varieties and innovative trap-crops.
John Murphy, Auburn University
Professor, Department of Plant Entomology and Plant Pathology


John F. Murphy is a Professor of Plant Pathology at Auburn University, Alabama. John's research focuses on plant virus diseases with an emphasis on evaluation of management strategies against insect-borne plant viruses in vegetable crops. He maintains collaborative efforts with entomologists, crop production horticulturists and plant breeders. The research includes evaluation of conventional, integrated pest management (IPM) and organic production practices as related to plant virus diseases. John's participation in the OREI project includes greenhouse-based evaluation of germplasm for resistance to important plant viruses and field-based evaluation of select lines for use in the Deep South.
Peter Ojiambo, North Carolina State University
Assistant Professor, Department of Plant Pathology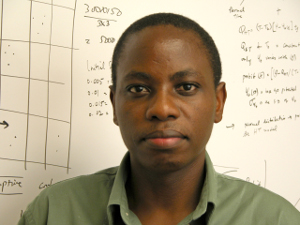 Dr. Peter Ojiambo is an Assistant Professor at North Carolina State University where his research focuses on the theoretical and applied epidemiology of plant diseases. Some of the current projects in his lab include population biology and ecology of P. cubensis, causal agent of cucurbit downy mildew, and application of a spatially explicit Bayesian framework to establish the risk of cucurbit downy mildew outbreak in eastern US. His role on the OREI grant will be to develop a within-season decision support program for cucurbit downy mildew and to allow growers to improve effectiveness of chemical control during the growing season. The decision support system will be made available to growers online through the Cucurbit downy mildew (CDM) ipmPIPE forecasting system website (http://cdm.ipmpipe.org). His other role on the OREI grant is to increase awareness and participation of organic farmers in the CDM ipmPIPE forecasting system for integrated management of cucurbit downy mildew in eastern US.
Abby Seaman, Cornell University
Vegetable IPM Coordinator, NYS IPM Program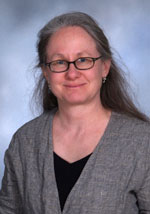 Abby Seaman is the vegetable IPM coordinator with the New York State Integrated Pest Management (IPM) program at Cornell University. She spent many years educating and training growers IPM techniques through the Cornell Cooperative Extension and is active in the New York agriculture community, helping growers manage insect pests and disease with the least toxic methods in a timely manner. She has provided hundreds of workshops, training thousands of growers. For the Eso-Cuc OREI grant, Abby will be coordinating extension agents, researchers and regional growers to collaborate to achieve the various goals in vegetable breeding, pest management solutions and grower involvement and outreach.
Chris Smart, Cornell University
Associate Professor, Department of Plant Pathology and Plant-Microbe Biology

Since 2003, Chris Smart has been at the Geneva campus of Cornell University focusing on the biology and control of bacterial and oomycete pathogens of vegetables. Her program has the goal of developing improved management strategies for vegetable diseases by increasing the understanding of pathogen biology and diversity under field conditions. Using both basic and applied research with novel extension strategies, Chris looks to bridge the gap between the lab and the field and provide growers with novel management options. In the Eso-Cuc project, Chris will be assessing pathogen diversity in New York and testing breeding lines for resistance, in addition to extending information to growers and working to improvement management strategies for downy mildew.
eOrganic, Oregon State University
Alex Stone, Associate Professor, Department of Horticulture
eOrganic will be working closely with the Eso-Cuc project, providing a platform for website development, video content and webinars. Led by Alex Stone, and the work of web developer John McQueen, Eso-Cuc will reach out to farmers through eXtension and the eOrganic newsletter to keep growers informed of our progress.
Key Personnel
Tony Kleese, Eastern Carolina Organics
Organic Farm Consultant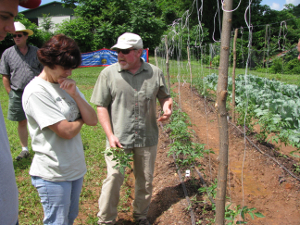 Tony has been active in the development of local and organic food systems in the Carolinas as a farmer and a new agrarian activist since 1989. He's managed several organic farms across North Carolina and is a founding member of Eastern Carolina Organics, www.easterncarolinaorganics.com. He helped develop the USDA's National Organic Standards in the late 90s and currently educates and consults on organic certification and participates in organic policy and business development. He has a long history of educating sustainable farmers with a strong focus on entrepreneurship starting with the Sustainable Farming Program at Central Carolina Community College in Pittsboro, NC in 1997, and continuing today at community colleges across the state. Much of his 24 years of sustainable agriculture work has revolved around the Carolina Farm Stewardship Association (CFSA), www.carolinafarmstewards.org, with many roles including Executive Director (7 years). Today, Tony manages the food projects side of The Earthwise Company,www.earthwiselife.com, a community and agriculture development company that helps local governments, non-profits, and landowners plan and establish sustainable food systems. He is currently serving on the Board of Directors of the Organic Seed Alliance, www.seedalliance.org, and the Dominica Organic Agriculture Movement, www.organicdominica.org.

Robert Hadad, Cornell University
Extension Vegetable Specialist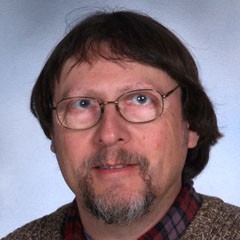 Prior to joining Cornell University in 2005, Robert Hadad worked as an Extension Educator both through the North Carolina State University Cooperative Extension Service and the University of Kentucky Cooperative Extension Service, developing programs for growers exploring sustainable and organic agricultural production practices. He then worked at the Elwell Agroecology Research Center at the University of Minnesota as aa research fellow. Today, Robert is the Cornell Vegetable Program's organic, marketing, and fresh market specialist. Robert's involvement with the Eso-Cuc OREI project is integrating growers into the project as well as working to disseminate results.
John Navazio, Organic Seed Alliance
Senior Breeder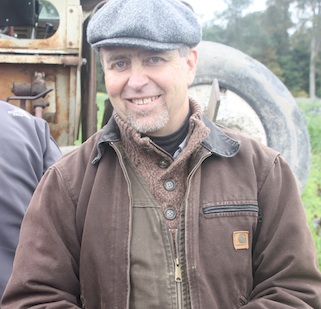 John Navazio is the Senior Scientist for Organic Seed Alliance and Extension Organic Seed Specialist for Washington State University. John's major duties with OSA include training farmers, university students and others in organic seed production and the fundamentals of participatory, on-farm plant breeding for organic systems. His breeding work includes increasing genetic breadth in a number of vegetable crops for their nutritional quality, flavor, texture, ability to scavenge nutrients, compete with weeds, and resist cold and drought. John develops participatory breeding projects with farmers across North America to improve crop germplasm for regional seed independence.
Judson Reid, Cornell University
Senior Extension Associate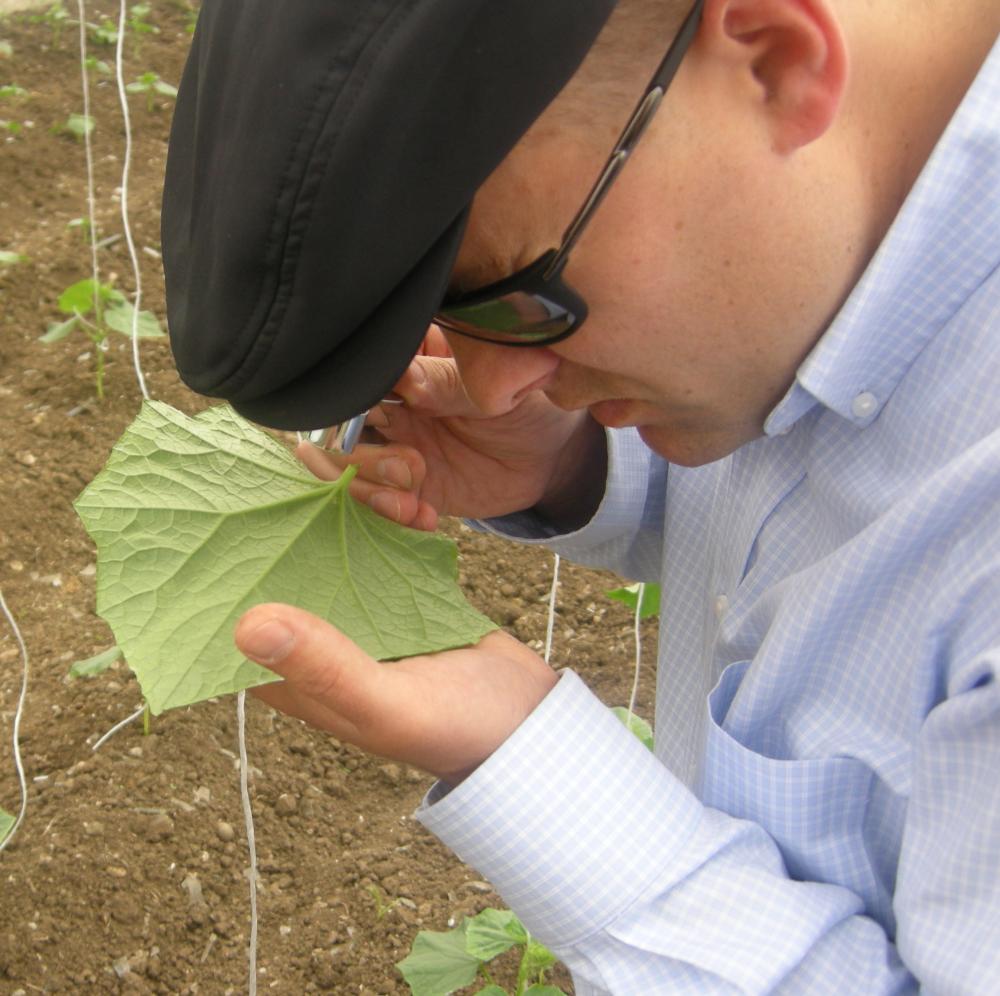 Judson Reid is a Senior Extension Associate with the Cornell Vegetable Program. In this position he manages a series of research and education projects throughout New York State for greenhouse, high tunnel and field production of fresh market vegetables. Judson is involved in the evaluation of grafting on tomatoes, cucumbers and eggplants; biological pest control, new cropping techniques and low temperature pest management concerns. An extensive network of private farm cooperators enhances his effective research and demonstration program. Current projects examine the viability of grafting of cucumbers for cold soil hardiness, biological insect control in low temperature settings for mixed greens crops, PAR and yield influence of multi-story cropping as well as variety evaluations. Judson has conducted educational sessions with farmers in the U.S., Mexico, Canada, Caribbean, Africa, Eastern Europe, Central Asia and Cuba (New York) on these topics. Judson's involvement with the Eso-Cuc OREI project is to work closely integrating growers into the project as well as working to disseminate results.
Crystal Stewart, Cornell University
Extension Associate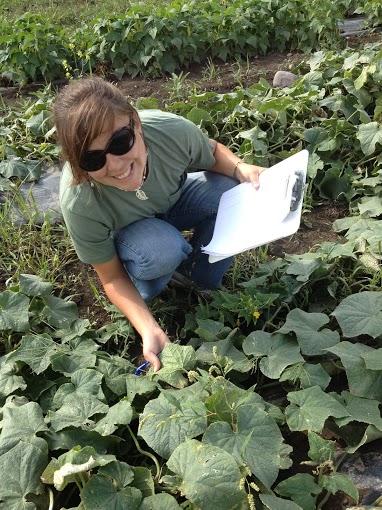 Crystal Stewart is a regional vegetable specialist with the Eastern NY Commercial Horticulture Program. She works primarily with diversified organic and small vegetable farms in a 17 county region. In addition to working on the OREI cucurbit grant, she currently works extensively on garlic production and post-harvest applied research projects and conducts vegetable variety and fertility trials. Crystal also supports growers by conducting regular farm visits and editing The Weekly Update, an in-season publication provided to the region's growers. She worked for South Dakota State Cooperative Extension for two years before joining Cornell Cooperative Extension in 2007. Crystal will help the Eso-Cuc project through direct outreach to growers.

Our Sponsors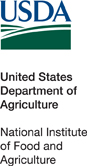 Grant number: 2012-51300-20006