Participants in the Organic Spotted Wing Dropsophila Research Project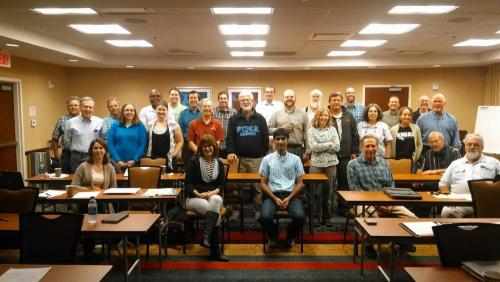 Philip Fanning (PD): Philip Fanning is an assistant professor of agricultural entomology at the University of Maine. Research in his lab is focused on the ecology and behavior of insects in agro-ecosystems. They study insects that are pests, and natural enemies within these agricultural systems and in the surrounding landscapes. The evaluation and optimization of pest management programs, and development of sustainable alternative management tactics towards the goal of conservation of biological control and pollinators is a key focus of their research.
Mary Rogers (Co-PD): Mary Rogers is an Associate Professor of Sustainable & Organic Horticultural Food Production Systems in the Department of Horticultural Science at the University of Minnesota. (40% teaching, 40% research, 20% extension) specializing in sustainable and organic horticulture food production systems. Her research program investigates plant‐insect interactions and biological and environmental strategies to improve the production of specialty crops in the upper Midwest. To learn more about the Rogers Organic Horticulture lab, visit: https://rogerslab.cfans.umn.edu/ or follow us on Instagram: Rogerslab_umn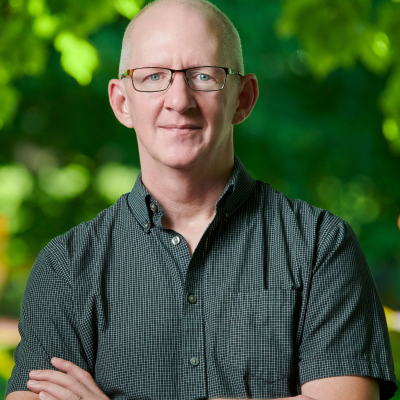 Rufus Isaacs : Rufus Isaacs is Professor and Extension Specialist at Michigan State University, where he directs the berry crops Entomology program. The team's research on spotted wing Drosophila includes evaluation of cultural and biological control for this pest in blueberry farms.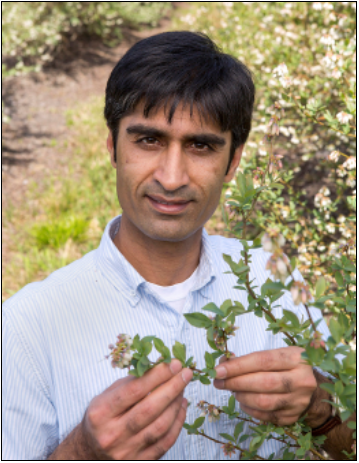 Ashfaq Sial Ahmad : Dr. Ashfaq Sial is currently working as an Assistant Professor in the Entomology Department at the University of Georgia where he has a research and extension appointment. The goals of his research program are to investigate biology and ecology of economically important arthropod pests of small fruits in both field and laboratory settings and to develop sustainable integrated pest management (IPM) programs. He is particularly interested in insecticide toxicology and resistance evolution. His laboratory employs biochemical, molecular, and quantitative genetic approaches to assess the risk of resistance evolution and determine resistance mechanisms in order to develop scientifically based resistance management programs. His program also evaluates insect monitoring techniques, biological control, and host plant resistance, and integrates multiple management tactics to provide a systems-level approach to pest management. The majority of his current projects focus on investigating various aspects of biology and management of invasive pest, spotted wing drosophila. He works directly with growers to help them implement IPM programs in conventional as well as organic production systems.
Since his arrival to UGA, Dr. Sial has led several research and extension initiatives including a statewide survey of SWD and UGA Blueberry Blog to help growers implement short-, medium-, and long-term strategies to effectively control SWD. He has written over 25 extension articles and delivered over 40 presentations throughout the state and nationally in the past 24 months. He is currently working on developing an App to help farmers identify major insect pests of blueberries and manage them effectively. His laboratory is well-funded through federal, stakeholder, and industry grants. Thus far, Dr. Sial has received a total of $10.4 million in extramural funding as PD or Co-PD to support his program. Currently, he is serving as Project Director (PD) of a multi-state collaborative grant funded by USDA National Institute of Food and Agriculture through Organic Research and Extension Initiative – OREI (Award No. 2015-51300-24154). The long-term goal of this grant is to develop, evaluate and implement systems-based organic SWD management programs that are compatible with the USDA National Organic Program (NOP) and true to the ethos of organic agriculture. These programs will be based on a foundation of cultural, physical, and behavioral control tactics, bolstered by NOP compliant insecticides. Dr. Sial is also involved in a recently funded Specialty Crop Research Initiative – SCRI grant (Award number 2015-51181-24252) as Co-Project Director (Co-PD).
Current members of his laboratory include three graduate students (Danielle Rosensteel, Josh Grant, and Richard Evans), a postdoctoral scientist (Dr. Bal Gautam), a research professional/lab manager (Brian Little), and six undergraduate research assistants. Lab members are working on various aspects of biology and ecology of SWD with the ultimate goal of developing sustainable management programs to control this pest in a more sustainable manner. Dr. Sial is currently recruiting more postdoctoral research associates and graduate students. The potential candidates may contact him at ashsial@uga.edu.
Jana Lee : Jana Lee is a Research Entomologist at the USDA ARS Horticultural Crops Research Unit. Her lab develops biological control and other sustainable management tools for pests of small fruits and ornamentals. In this grant, Jana will examine how the physiological status of SWD affects their response to volatiles and the pupation habits of SWD, to improve trapping systems and management targeting additional life stages of the pest.

Vaughn Walton : I work on economically important pests, with the aim to provide environmentally sustainable and minimal impact pest management strategies for agriculturalists in Oregon and further afield. Multiple techniques are used in a whole-system approach to obtain sustainable means of production.
In order to obtain this goal, new knowledge obtained from detailed insect physiological, biological, behavioral, ecological and environmental studies are needed. This knowledge is then used to apply treatments timed to occur during periods when pests are at their most vulnerable. These control strategies have historically focused on biological control, mating disruption and conventional synthetic pesticides.
The long-term goal of my work in this project is to develop and deliver sustainable management programs for SWD that are not only NOP standards-compliant but also are true to the ethos of organic agriculture. In this project, we will develop pest management programs based on a foundation of cultural, physical, and behavioral control tactics bolstered by biopesticides. The programs developed in our project will be based on scientific understanding of biology and ecology of SWD. It will allow producers to follow the organic hierarchy of pest management, conserve natural enemies, and reserve their use of lethally active, broad-spectrum insecticides for emergency applications.
Specific objectives and scope of work to be conducted at Oregon State University include:
Develop semiochemical based management tactics for SWD.
Develop cultural control tactics and evaluate their efficacy and feasibility for reduction of SWD damage.
Develop effective chemical control strategies that do not disrupt biological suppression of pest complexes.
Development and implementation of an integrated outreach program.

Oscar Liburd : Dr. Liburd is a Professor in the Entomology and Nematology Department at the University of Florida (UF). He has over 15 years of professional experience in academia and is the Program Leader for the Small Fruit and Vegetable IPM laboratory at UF. Dr. Liburd has published more than 150 scientific papers and has received numerous awards for his scholarship including the recent Distinguish Achievement Award for Horticultural Entomology (2013) from ESA southeastern branch, Excellence in IPM awarded from the Entomological Society of America (2008), and Entomologist of the year (2008) from the Florida Entomologist.
Dr. Liburd has over 20 years of experience in the development of attractants and lures for management of fruit flies. He has worked extensively in organic agriculture on the behavioral management of horticultural pests using cultural techniques such as mulches, cover crops, trap crops, and intercropping. He has many years of experience evaluating biopesticides and their effects on non-target organisms and has worked extensively with small fruit and vegetable growers in the Eastern United States.
Dr. Liburd and his research group will be participating in the evaluation and development of semiochemicals for monitoring and attract-and-kill systems for SWD. They will be involved with the development of cultural control tactics, specifically the impact of mulches, microclimate, and cultivation techniques for SWD management. They will participate in the development of chemical control strategies using OMRI listed products for SWD suppression and management. Part of this project will involve the effects of these pesticides on non-target species. Finally, the group will participate in the overall extension activities outlined in the project.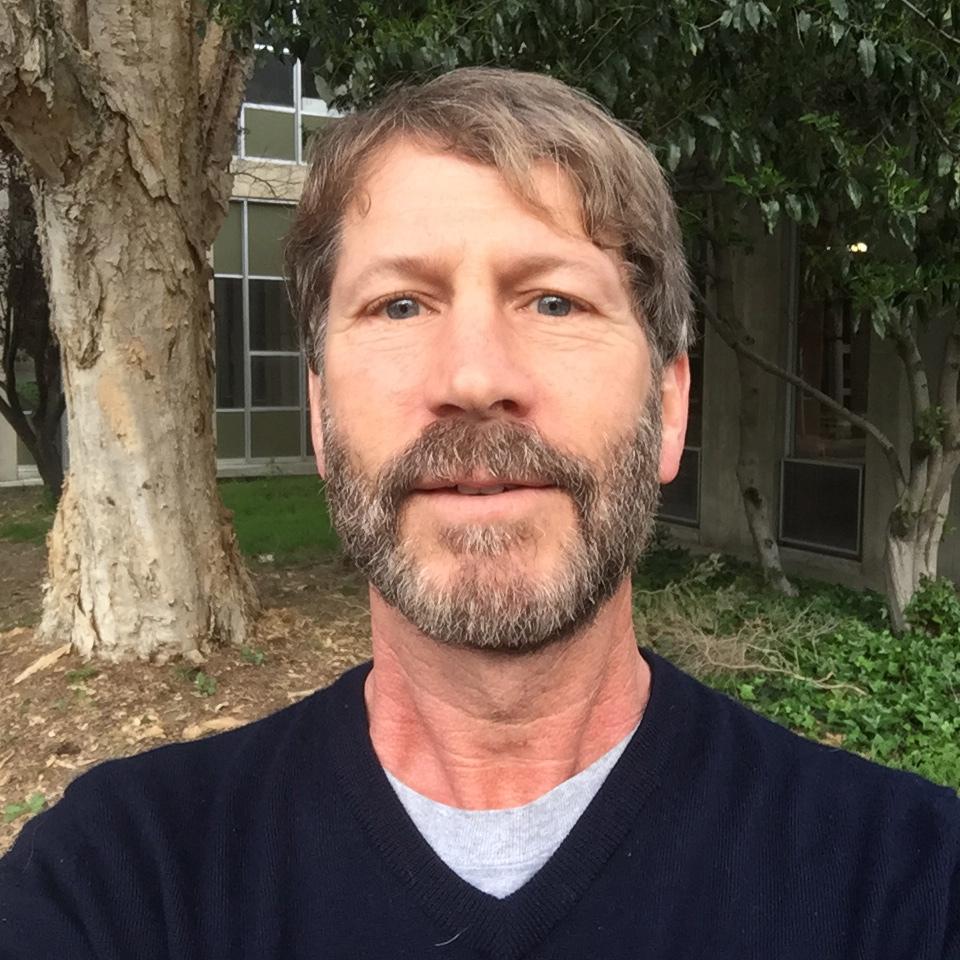 Kent Daane :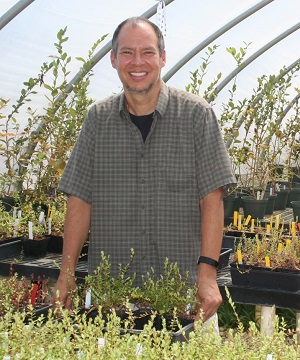 Cesar Rodriguez-Saona : Dr. Cesar Rodriguez-Saona is a Professor and Extension Specialist in the Department of Entomology at Rutgers University. The goal of his research and extension programs is the development and implementation of cost-effective and reduced-risk integrated pest management practices for blueberries and cranberries. His areas of research include biological control, applied chemical ecology, insect-plant interactions, tritrophic interactions, and host-plant resistance. As of September 2013, he has authored 150 peer-reviewed publications and has trained 14 graduate students and 13 postdoctoral associates. As part of this OREI grant, Dr. Rodriguez-Saona's lab will determine the impact of sustainable spotted-wing drosophila (SWD) management on natural enemies and develop an integrated outreach and training program to implement organic SWD management strategies in New Jersey.

Frank G. Zalom: Dr. Zalom is Distinguished Professor of Entomology and Extension Entomologist at UC Davis. He served as Director of the UC Statewide IPM Program for 16 years, and has conducted research on tree fruit, small fruit and vegetable crops pests for 37 years. Elected a Fellow of the California Academy of Sciences, the American Association for the Advancement of Science (AAAS), and the Entomological Society of America (ESA), he has received both ESA's Achievement Award in Extension and its Recognition Award, the Entomological Foundation's IPM Team Award and its Excellence in IPM Award, the James H. Meyer Award from UC Davis for teaching, research and service, a Fulbright Senior Research Fellowship, and the CW Woodworth Award from ESA's Pacific Branch. He served as ESA Pacific Branch President (2001), ESA National President (2014), and Entomological Foundation President (2015). He has authored over 330 peer-reviewed publications, and was major Professor for 12 PhD and 6 MS students. Dr. Zalom's lab was the first to study Drosophila suzukii as an agricultural pest in North America, and as part of this OREI grant he will pursue objectives related to effectiveness of organic insecticides and canopy management for SWD control, and incorporation of project results into University of California management guidelines.