Resources
Organic Spinach Seed Production Manual
This guide includes basic instructions needed for on-farm organic spinach seed production. Topics include basic spinach seed biology, climatic requirements, soil fertility requirements, planting and cultivation, flowering and pollination, isolation requirements, genetic maintenance and improvement, harvesting, and common diseases.
Journal Articles
Joshi V, Shi A, Mishra AK, Gill H, DiPiazza J. Genetic dissection of nitrogen induced changes in the shoot and root biomass of spinach. Sci Rep. 2022 Aug 12;12(1):13751. doi: 10.1038/s41598-022-18134-7. PMID: 35962022; PMCID: PMC9374745. Available at https://www.nature.com/articles/s41598-022-18134-7
Funding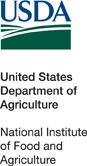 This project was funded in 2022 by the Organic Research and Extension Initiative grant, part of the USDA National Institute of Food and Agriculture. Grant number 2022-51300-37886.