About
Welcome to the Electric Weed Control Project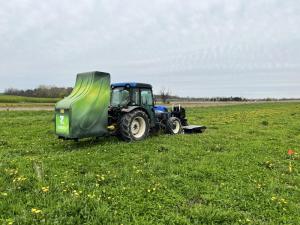 Weed management is a significant problem in organic orchard and berry production, due to limitations on crop rotation and tillage between crops. Organic weed control requires frequent soil disturbance, hand labor, high rates of organic herbicides, or the application of large amounts of organic or synthetic mulches. These practices can be barriers to economic, soil health and sustainability goals. In this project, a team of researchers in three states will consider the performance, safety, and economic and environmental sustainability of electric weed control (EWC) in perennial crops.
What is Electric Weed Control?
Electric weed control systems generate a high voltage current, which is applied directly to the target plants via foliage contact and conducted downward through the roots. As the current passes through the plant, electrical resistance generates heat; this results in the vaporization of cellular water, leading to cell membrane rupture and plant death. Although EWC is not new, limited information exists about how to optimize it for perennial crops.
We will conduct field experiments in certified organic fields to characterize EWC efficacy on key weed species affecting highbush blueberry and sweet cherry (OR), apple (NY) and almond (CA) crops. Information about the findings of the project will be available on this website as the research progresses.
Project Goals
The long-term goals of the proposed project are to:
Optimize electric weed control as an effective and economically sound production practice in trees and berries.
Reduce soil tillage and reliance on plastic weed mats by diversifying weed management methods through the adoption of electric weed control.
Increase stakeholder profitability and sustainability.
Objectives
Develop site- and weed-specific recommendations for electric weed control.
Determine the impacts of electric weed control on weed populations, crop vigor and productivity, and soil health.
Perform cost and profitability analyses of electric weed control in bushberry and orchard crops.
Extend results to stakeholders and describe changes in grower knowledge about and interest in electric weed control.
Funding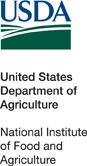 This project was funded in 2021 by the Organic Research and Extension Initiative grant, part of the USDA National Institute of Food and Agriculture. Grant number 2021-51300-34911