News
Glynwood Center for Regional Food and Farming (map)
Please join us for an engaging evening of conversation, learning, and tasting brought to you by the Culinary Breeding Network and Glynwood Center for Regional Food and Farming.
This public event is designed to build community among plant breeders, seed growers, farmers, chefs, bakers, distillers, retailers, distributors and consumers interested in the local food system. Attendees have the unique experience to taste new and in-development vegetable, fruit, and grain cultivars. They can engage in conversation, share opinions, and take part in breaking down the walls between eaters and breeders. This year's iteration of the Variety Showcase will have a special emphasis on culinary grains including wheat, rye, oats, barley, and corn. Come learn, taste, and engage!
"At this event, the curtain is pulled back." says Culinary Breeding Network Executive Director, Lane Selman, "Attendees are introduced to the wizards making critical decisions before our farmers plant their seeds. It's a unique chance to meet the plant breeders creating flavorful varieties for organic farmers."
This event is partially funded by the USDA-OREI-NIFA project Value-Added Grains for Local and Regional Food Systems II. Tickets available as the date gets closer.
April 26, 2023: Marketing Value-added Grains for Local and Regional Food Systems Webinar
Join eOrganic for this webinar presented by June Russell of Glynwood with guest Amber Lambke of Maine Grains as they share insight and experience from over a decade of value chain and market development, for organic small grains and other crops. It takes place on April 26, 2023 at 11AM Pacific, 12PM Mountain, 1PM Central, 2PM Eastern Time.
Learn more and register at https://eorganic.org/node/35686
March 23, 2023: Descriptive Sensory Analysis: The Key to Understanding the Quality of Wheat Sourdough Bread
Webinar with Roy Desrochers, Sensory Practice Leader at University of Vermont Extension. Register at https://oregonstate.zoom.us/webinar/register/WN_rJikFJaaTWWgso3dai7jyA#/registration
March 2023: Grain Production Webinar Series
This spring UVM Extension and the Northern Grain Growers Association are host-
ing a series of educational webinars focusing on grain production in the Northeast.
All webinars are free and will occur 12:00 to 1:30pm EST via Zoom. Click HERE to
register. Visit the 2023 Grain Production Series web page for more information.
Thursday, March 23, 2023 - Amber Lambke of Maine's Grains will speak about her involvement with the company, their mission, production methods, collaboration with farmers, and implications for grains in the Northeast.
Friday, March 24, 2023 - Reviving Heritage Grains: Sourcing seed, trialing varieties, and cultivating a network of growers. In recent years, interest in reviving the growing of heritage grains has risen dramatically given their flavor, adaptability to a range of growing conditions, their high nutrient content, potential for excellent baking qualities, and compelling histories. In order to meet the demand, there are key quesions that need to be addressed, such as the sourcing of seed, trialing and evaluating different varieties, and establishing networks among growers and end users. The three presenters in this webinar, Richard Roberts, Don Lewis, and Bill McDorman will share their experiences and what they have learned over the many years they have devoted to this work.
Friday, March 31, 2023 - NGGA Hits the Road. This winter the Northern Grain Growers Association (NGGA) and the University of Vermont Extension Northwest Crops and Soils Program (NWCS) are hitting the road! We are going on educational excursions to local grain-focused businesses and farms and will be sharing our findings. Businesses include SILO Distillery (Windsor, VT), Caledonia Spirits (Montpelier, VT), Harpoon Brewing (Windsor, VT), Vermont Bean Crafters (Warren, VT), Seneca Grain (Penn Yan, NY), Oechsner Farms (Newfield, NY), Farmer Ground Floor (Trumansburg, NY), and Wide Awake Bakery (Trumansburg, NY). During this webinar, we will share videos and information from the tours and visits we will be making.
February 15, 2023: Field To Bench: Consumers and Collaboration Spur Progress In Barley Breeding at Cornell University
Read the article by Emily Hutto of RadCraft on the Craft Maltsters Guild website about how Cornell University is breeding malting varieties suitable for growers in New York State, where conditions are more humid and wet than many other traditional barley growing regions. You can also learn more about the research at the 2023 Craft Malt Conference. Register here.
August 21, 2022 Farm to Flavor Dinner, Madison, Wisconsin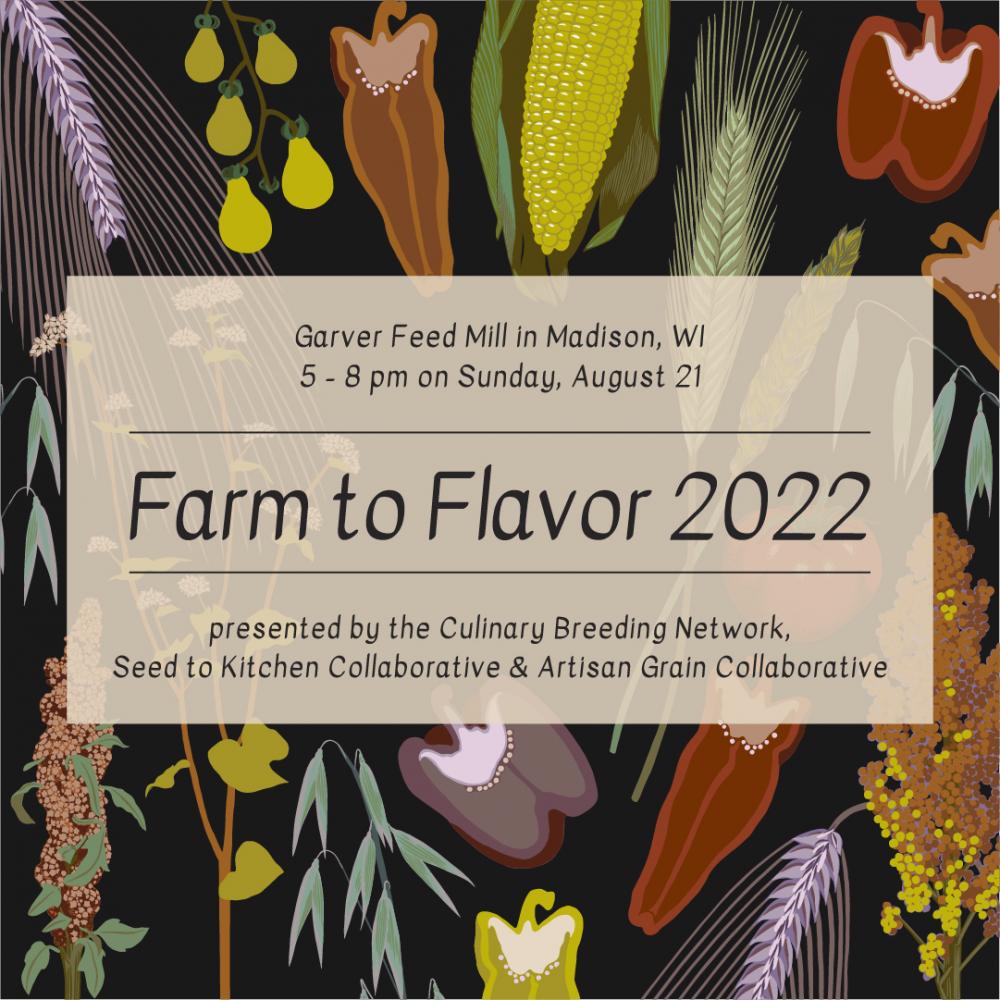 The Culinary Breeding Network, the Seed to Kitchen Collaborative and the Artisan Grain Collaborative organized an engaging evening of conversation, learning, and tasting on August 21, 2022. This public event brought together plant breeders, farmers, chefs, bakers, and beverage manufacturers to discuss and demonstrate the benefits of participatory plant breeding. The evening provided the opportunity for researchers, growers, and end-users to play an essential role in guiding the development of new crop varieties. This year's "Farm to Flavor" had a special emphasis on culinary grains including wheat, rye, oats, barley, and corn. Several NIFA OREI projects will be exhibiting their breeding work, including Value-added Grains for Local and Regional Food Systems II, led by Mark Sorrells of Cornell University; Developing Multi-use Naked Barley for Organic Systems, led by Patrick Hayes and Brigid Meints at Oregon State University; and Collaborative Plant Breeding Network Development for Organic Systems in the Upper Midwest, led by Julie Dawson of the University of Wisconsin-Madison. Attendees reported the following:
93% reported they learned something or make a new connection at the event.
97% reported they intend to apply the knowledge they gained
100% reported that after attending the event they will seek out more local grains
70% reported that after attending the event they know more about organic plant breeding
Read more details in an eOrganic report about the event at https://eorganic.org/node/35637
March 7, 2022 Morning Ag Clip: Marketing NY Grains and Legumes to the NYC Market
GrowNYC received a grant from the New York Farm Viability Institute to help connect New York grain and legume growers to the New York City marketplace. Read more at https://www.morningagclips.com/marketing-ny-grains-and-legumes-to-the-ny...
Grains Week! May 3-7, 2021
Join us for this celebration of grains from May 3rd - 7th! Cascadia Grains has opted for a whole new take on the traditional 300-person conference, teaming up with a collaborative national team including the Culinary Breeding Network, WSU Food Systems, Cascadia Grains, GrowNYC, Oregon State University and the Artisan Grain Collaborative and eOrganic.
Find the recordings at https://www.youtube.com/playlist?list=PLgJe99mQdvfYcC4k2K8iFR-cDXOwN4ZKq
Download the program here
At the event:
* Farmers, ag professionals, and academics can hear research updates, learn about grain production for artisan breads, cereals for animal feeds, brewing and distilling, and more.
* Professionals, home bakers, and consumers can get an inside look into grain quality, accessing specialty and/or small grains, and interact with a community of passionate chefs, bakers, and grain-lovers.
* Brewers, distillers, and maltsters can connect with industry professionals to get the latest information on using grains in value-added production, as well as getting access to specialty regional grains.
Find out more and register at WWW.CASCADIAGRAINS.COM

This event is partially funded by 2 USDA NIFA OREI projects: Value-added Grains for Local and Regional Food Systems and Breeding Multi-use Naked Barley for Organic Systems.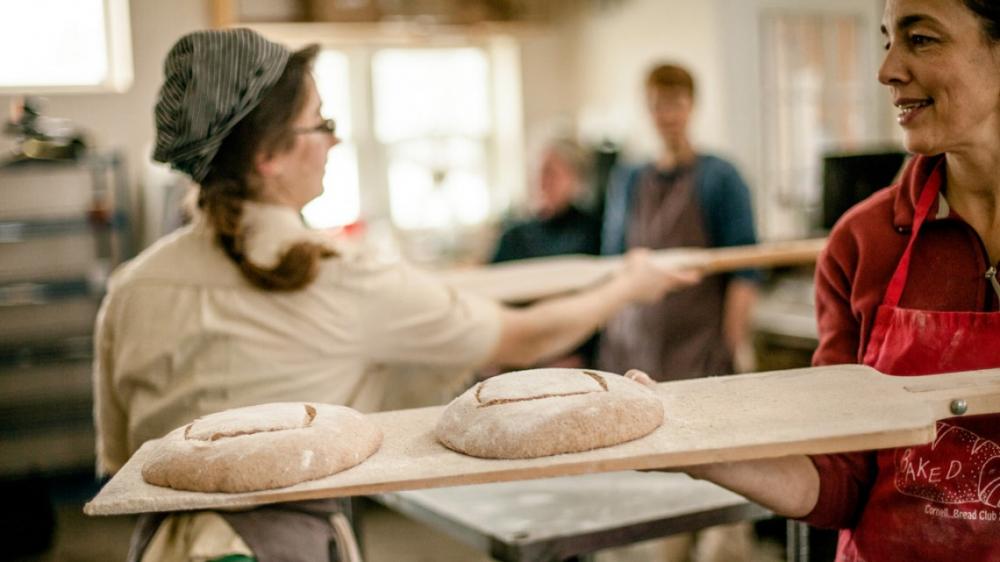 $2M USDA Grant funds value-added grains project
September 21, 2020: A Cornell scientist is leading a multi-institution team that's helping turn diverse and ancient grains into staple foods throughout the Northeast and Midwest, thanks to a three-year, $2 million grant from the U.S. Department of Agriculture (USDA). The project focuses on developing infrastructure to establish an organic industry for grains such as bread wheat, naked barley, hulless oats, rye, emmer, spelt and einkorn. Read the full article here.
Funding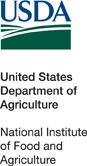 This project was funded in 2020 by the Organic Research and Extension Initiative, part of the USDA National Institute of Food and Agriculture, grant number 2020-51300-32379. A previous Value Added Grains project was funded in 2011, grant number 2011-51300-30697.