Resources
Extension Publications, Trial Reports, Presentations

Daughtry, Minda and Pam Kerley. 2018, Herbicide Carryover in Hay, Manure, Compost, and Grass Clippings: Caution to Hay Producers, Livestock Owners, Farmers, and Home Gardeners.

Egel, Dan, 2021. Tomato Disease Photos. This presentation can help you identify tomato diseases on your farm or in your garden.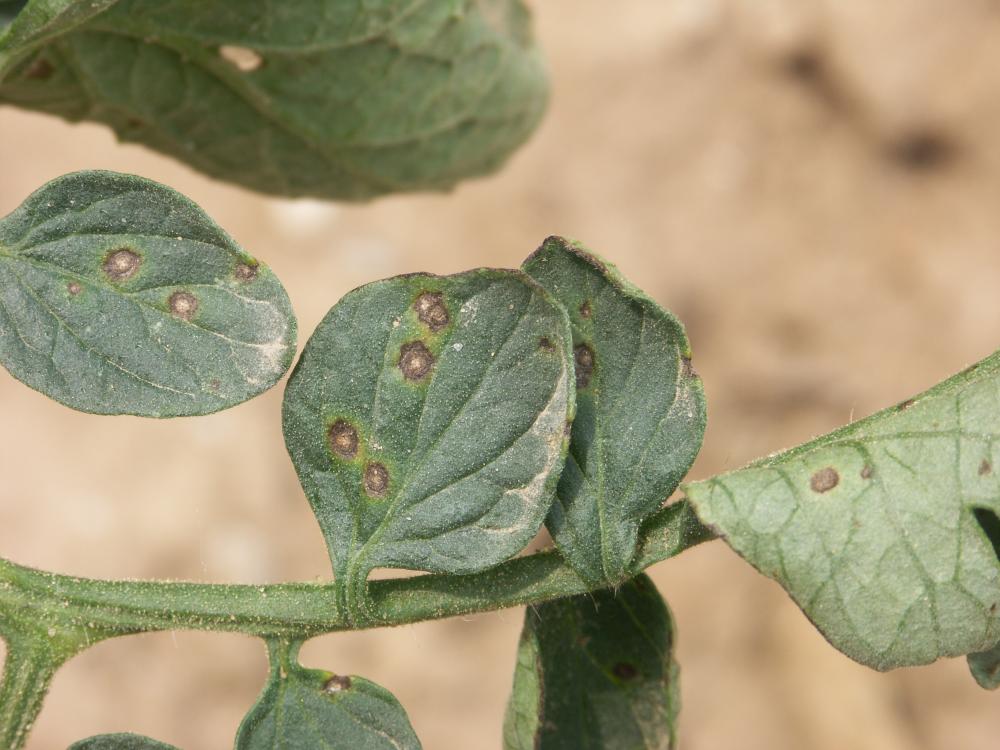 Egel, Dan. 2012. Five Steps for Healthy Garden Tomatoes. Purdue University Extension. BP-184W.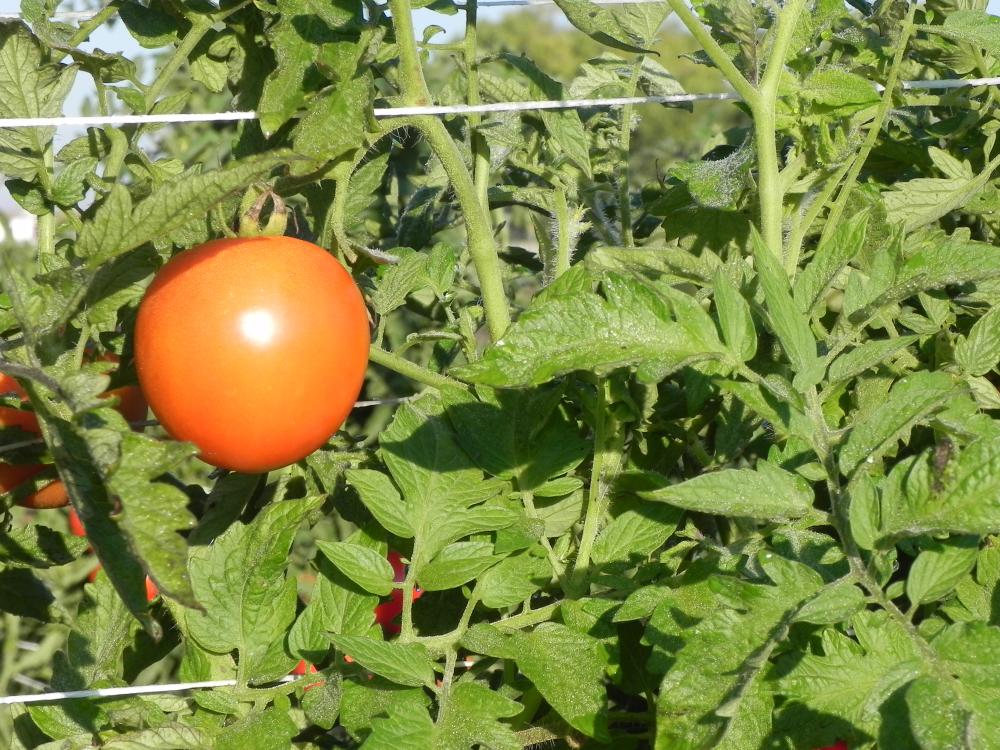 Egel, D.; Jaiswal, A.K.; Abdelrazek, S.; and Hoagland, L. 2019. Managing Diseases of Tomato in the Midwest Using Organic Methods. eOrganic article.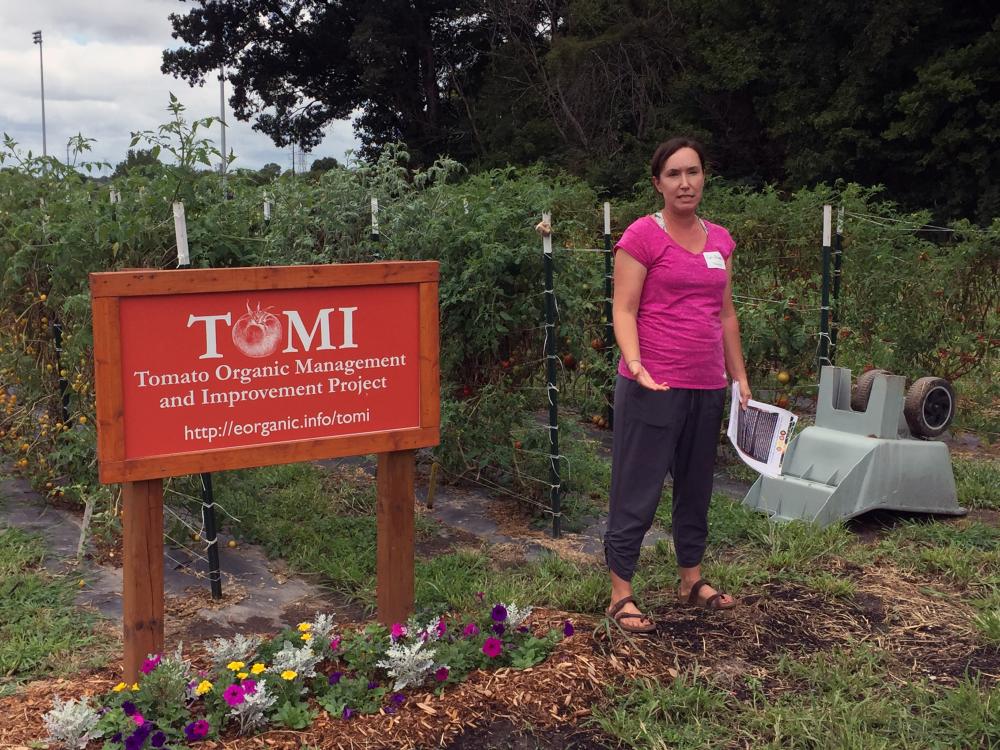 Hoagland, Lori. 2019. Breeding Open-pollinated Tomatoes with Great Flavor. Hort Congress.
McKenzie, Laurie. 2014. How to Breed Tomatoes for Organic Agriculture. Organic Seed Alliance.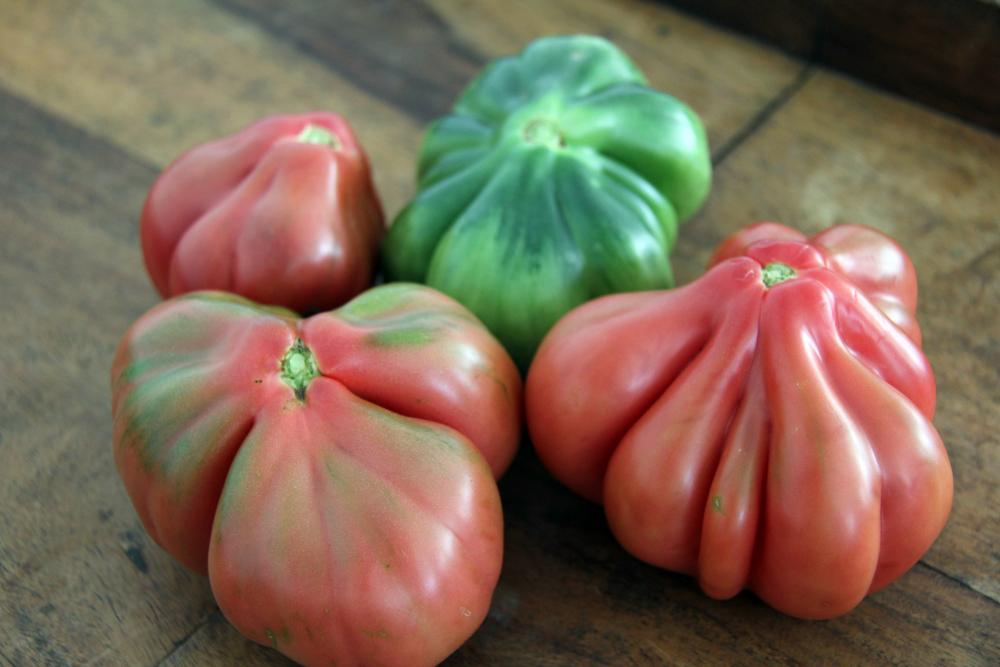 McKenzie, L. and Zystro, J. 2021. Tomato Seed Production Guide. Organic Seed Alliance.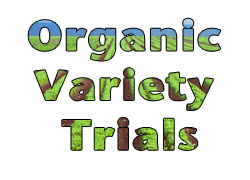 Organic Variety Trial Database Tomato Reports.
Journal Articles and Master's Theses
Egel, D.; Hoagland, L.; Davis, J.; Marchino, C.; and Bloomquist, M. 2019. Efficacy of Organic Disease Control Products on Common Foliar Diseases of Tomato in Field and Greenhouse Trials. Crop Protection, 122, p. 90-97.
Hoagland, L., Colley, M., Dawson, J., Davis, J., Egel, D., Gu, S., Myers, J., Zystro, J., 2018. Tomato management and improvement project (TOMI): An interdisciplinary approach to managing foliar pathogens in tomato. Acta Horticulturae 1207:203-210.
Hoagland, L., Navazio, J., Zystro, J., Kaplan, I., Gomez Vargas, J., Gibson, K., 2015. Key traits and promising germplasm for an organic participatory tomato breeding program in the U.S. Midwest. HortScience 50(9):1-8
Jaiswal, A., Mengiste, T., Myers, J., Egel, D., Hoagland, L., 2020. Tomato domestication has attenuated responsiveness to a beneficial soil microbe for plant growth promotion and induction of systemic resistance to foliar pathogens. Frontiers in Microbiology. Doi: 10.3389/fmicb.2020.604566J
Richardville, Kyle. 2020. Overcoming Barriers in Urban Agriculture to Promote Healthy Eating on College Campuses. Master's Thesis, Purdue University.
Richardville, K., Egel, D., Flachs, A., Jaiswal, A., Perkins, D., Thompson, A., & Hoagland, L. A. 2022. Closing the loop in the city: Leaf mold compost reduces waste, improves soil and microbial properties, and increases tomato productivity. Urban Agriculture & Regional Food Systems, 7:e220022. https://doi.org/10.1002/uar2.20022
Conference Proceedings Papers
Poster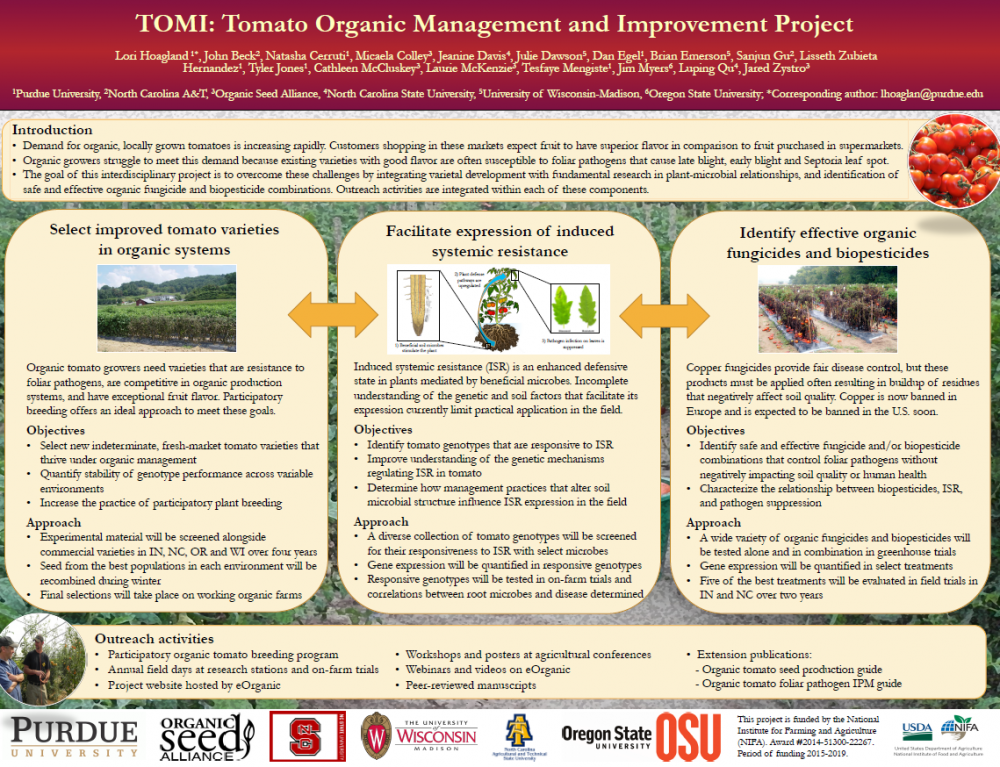 TOMI Project Scientific Research Poster
Webinar Recordings and Podcasts
Hoagland, Lori. 2021. Microbial Inoculants: When are they worth using? The Vegetable Beet Podcast
Hoagland, Lori and Dan Perkins. 2021. Nurturing the "Invisible Part of the Soil". Conservation Cropping Systems Initiative Podcast
---
---
---
---
---
---
---
Blogposts
Funding
This project was funded in 2014 and 2019 by the Organic Research and Extension Initiative grant, part of the USDA National Institute of Food and Agriculture. Award numbers 2014-51300-22267 and 2019-51300-30245