Postdoctoral Researcher Position Available
Postdoctoral Research Scientist Opportunity at Penn State
JOB DESCRIPTION AND POSITION REQUIREMENTS:
Penn State's Department of Plant Science (https://plantscience.psu.edu/) is seeking a highly motivated Postdoctoral Scholar to conduct research and Extension activities on Anaerobic Soil Disinfestation (ASD) within the framework of a collaborative interdisciplinary project funded by the USDA-NIFA OREI program and investigating the use of ASD for Enhancing and Advancing the Sustainability of Organic Crop Production. Read the full position description and instructions here before applying.
Using agronomic and laboratory procedures for soil and plant analysis, the primary goal of the research will be to optimize and evaluate opportunities for integrating ASD in organic vegetable and strawberry crop systems and assess the short- and long-term impact of ASD on nutrient dynamics, soil ecology/microbiology, soilborne pests and pathogens, soil health, crop physiology and yield and quality performance.
The candidate will be supervised by Dr. Francesco Di Gioia and will be working with an interdisciplinary team of researchers with expertise in horticulture, soil microbiology, plant pathology, nematology, biogeochemistry, ecosystem science and management, and agricultural economics.
Location: Primary work location will be Penn State, University Park located at State College, in Central Pennsylvania.
Education and Experience: Applicants are required to have a Ph.D. or equivalent doctorate in Horticultural Science, Plant Science, or closely related field(s). Applicants must be able to provide evidence that all requirements have been met for completion of the Ph.D. and pass standard background checks prior to the effective date of hire. This position requires excellent written and verbal communication skills. The profile of the successful candidate for this position includes:
Strong background and research experience on organic/sustainable vegetable/strawberry crop production, plant nutrition and physiology, sustainable soil management practices, cover crops, management of soilborne pests and pathogens, soil health and microbiology, crop yield and quality.
Strong quantitative and qualitative skills in fields related to plant science, plant physiology, plant nutrition, soil health, soilborne pests and pathogens, and vegetable/strawberry quality.
Ability to formulate research hypothesis, design, and conduct experiments on organic vegetable and strawberry crop systems in open field, greenhouse, and/or protected cultivation systems, collect, interpret, and summarize data, and solve research issues.
Experience with laboratory procedures for the analysis of soil and plant samples using colorimetric/spectrophotometric/fluorescence assays and experience operating HPLC equipment.
Ability to use software, define and execute procedures for plant mineral and phytochemical analysis, image analysis, environmental monitoring, and statistical analysis.
Ability to collaborate effectively with members of an interdisciplinary research team and ability to drive and travel within the state of Pennsylvania to work with Extension educators and grower cooperators.
Interest in mentoring students and conducting Extension and outreach activities.
A strong record of peer-reviewed publication.
Initially, this term appointment is funded for one year from the date of hire with the option of reappointment for additional years conditional on satisfactory performance and the availability of funds. This position includes competitive salary and benefits.
Click here for more information and application instructions
Funding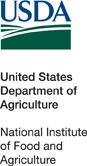 This project was funded by the Organic Research and Extension Initiative grant, part of the USDA National Institute of Food and Agriculture. Award Number 2021-51300-34914