August 9, 2022: Organic Naked Barley and Dry Bean Field Day
Brigid Meints is hosting an Organic Naked Barley and Dry bean field day on Tuesday, August 9th from 2-4 pm at the Lewis-Brown Horticultural Farm in Corvallis. At the field day we'll share the latest research going on for the OREI multi-use naked barley project, see some ready-to-harvest spring barley trials, and see a large dry bean variety trial! This event is free and open to the public, so please share with your networks. We do ask that you register in advance so we can get an idea of how many people will be in attendance.
Hope to see you there!
Funding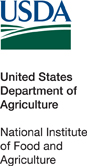 This project was funded in 2017 by the NIFA Organic Research and Extension Initiative grant, part of the USDA National Institute of Food and Agriculture: Grant number 2017-51300-26809. In 2020, a second grant, Developing Multi-Use Naked Barley for Organic Systems II was awarded funding: Grant number 2020-51300-32179.